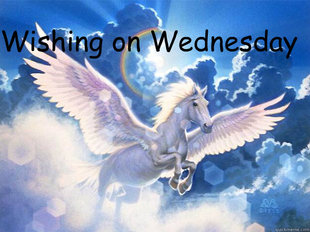 Hello Fellow Bloggers!
This post is a little late due to technical-mummy-couldn't-get-to-the-computer-until-now difficulties, but here in the UK, it's still Wednesday, so I reckon I can get away with it as it is the first one...
I thought I would try this new idea: a weekly meme around wishing... Each Wednesday I will take a wish theme and we share what we would wish about it... hmmm.. that sounded soooooooo much better in my head but we shall run with it and see if it takes off...
The twist with this meme is that I would like others to put forward a wish theme for next week (I will too!) I will then put up a poll to see which one people would be most interested in doing. All you have to do is post your comment (or link to your post) along with your suggestion.
I'm going to kick-of this Wednesday's wish theme with:
I don't know about you, but I love my garden... and I love plants. This is my favourite:
A beautiful African Violet. I don't know why it's my fave. It's just that this pretty little flower makes me smile as I am stood doing the washing up! It was given to me by my hubby's auntie and somehow, I have managed to look after it for two years...
My garden wish would be:
I wish I had more success when it came to growing plants!
I'm telling you, I am hopeless. My mother in-law gives us plants but I forget to water them or something and they inevitably die! My lovely neighbour has just given me six tomato plant cuttings... I tried to warn her about my track record but she just laughed and simply said she has more if I need them...
So what what's your garden wish? Is there a feature you would particularly like in your garden? How would you like it to look etc. And what would you wish for next weeks theme?!
This would be mine:
Is there an author you would wish to meet?