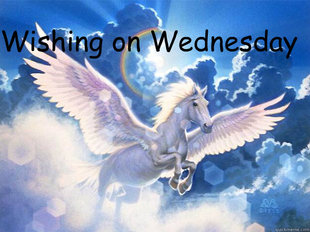 Hello!
Welcome to my weekly
Wishing on Wednesday
meme (#3) ...
The idea is simple, each week I will post a 'wish' along with my answer. It would be super awesome if you could join in too! Leave your comments or a link to your post so we can check out each others answers.
Please feel free to leave a suggestion for future wish themes too!
Pulling it out of the hat
This weeks wish:
I wish I had more time to.....
I had to set this as the wish for this week as I am always thinking/saying this!
We would all love a little extra time in the day to do the things we want or even
need
to do, but if a genie was to appear now and grant this wish, what would you use this extra time to do?
If my list was on paper, it would probably unroll a very, very long way! Ha!
I won't go through them all, but I will list my top five things I would do if I had more time...
More activities with the kids - I sometimes miss the one-to-one time I used to get with my eldest boy... We used to do a lot more creative activities, the paint and play dough was out a lot more than what it is now. Now the routine is a bit more tight, with all the extra bits I have to do....
More time to READ! I am always saying this. I love sinking into a book. Along with a cup of tea and maybe a couple of choccy nibbles and I feel complete...
More time to write - Blogging and writing a like. By the time I get to sit down to write and actually get into it, it's the early hours of the morning and I don't produce my best work. I'm stuck in a bit of a vicious circle... (A better routine will help with that!)
More time to finish a project - mmm... there are many examples of unfinished projects around the house, but it would be nice to finish my baby blanket project when my youngest is still a baby... *sigh*
More time to learn something new - I would love to get back into education... I would especially want to get on a writing course, but also, as a nursery nurse I would love to study child psychology.
So there we are; I did quite well condensing the mammoth size list into five points... What would you do with some extra time?!
Happy Wednesday everyone!!!